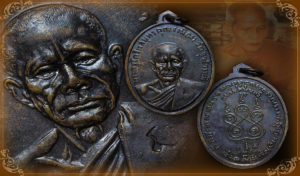 Luang Por Nueang Gowito (Pra Kroo Gowit Samutrakun), of Wat Jula Mani, in Tambon Bang Chang, Amphoe Ampawa, in Samutr Songkram Province, was one of the most famous Gaeji Ajarn Guru Monks of his Era. He was the first initiate and apprenticed in magic to Luang Por Kong (Wat Bang Gaporm), Luang Por Chaem (Wat Jula Mani), Luang Phu Jai (Wat Sadej), and many other famous Sorceror Monks of Historical Fame, and received their powerful Wicha in Lineage Transmission. His Wicha was renowned for being manyfold and masterful, having learned from so many different lineage masters.
Luang Por Nuang was born in Praek Hnām Daeng, in Ampawa, Samutr Songkram, with the name Nueang Gao Suwan. He was born on the 14th of February 2452 BE, as the son of Mr. Thom Yā Gao Suwan, and Mrs. Dtāb Gao Suwan. He finished his education in the year 2463 BE in fourth year of primary school.
Luang Por Nueang was ordained as a Bhikkhu on the 29th July 2475 BE, with the ceremony being performed within the Uposatha of Wat Bang Gaporm, in Ampawa, Samutr Songkram, with Abbot Luang Por Kong Tamma Dtecho as his Upachaya Ordaining Officer, Luang Por Chaem Solos (Abbot of Wat Jula Mani) as his Gamma wajajarn Prompting Officer, and Pra Ajarn Plong of Wat Bang Gaporm as his Anusawanajarn Witness
Luang Por Nueang studied hard and attained his Masters Degree in Dhamma in the year 2479 BE, and in this same time period had also developed immense mastery in Vipassana Kammathana practices, and Puttakom (Buddha Magic). He advanced very rapidly, due to extremely diligent efforts, and putting in his utmost perseverance in both his academic study and his manifest practices. He was also fortunate to have the Great Luang Por Kong of Wat Bang Gaporm as one of his Kroo Ba Ajarn in Buddha Magic, whose Rian Luang Por Kong Coin holds position within the Top Five 'Benjapakee' Monk Coin amulets of all time.
Apart from receiving Wicha from Luang Por Kong, Luang Por Nueang also received Wicha from both Luang Por Chaem at Wat Jula Mani, and the great Luang Por Jai, of Wat Sadej (maker of the world famous Takrut Look Om of Immortal Fame). And so Luang Por Nueang was able to become a Master of many Wicha from these greta Kroo Ba Ajarn, and through his own diligent practice was able to strengthen them with his own meditations.
Luang Por Nueang eventually became Abbot of Wat Jula Mani, and showed his prowess was not only in Wicha Akom, and his own practice, but that he was also able in worldly matters, by administrating and improving the temple facilities, which brought the temple of Wat Jula Mani to become the important and prominent temple it is today. For these achievements, he was awarded by Royal decree the status of Abbot Pra Kroo Gowit Samutrakun Sanyabadtr Chan To Superior Administrator, in the year 2496 BE. He was onece again raised in status to Abbot Pra Kroo Gowit Samutrakun Sanyabadtr Chan To Fai Vipassana Tura (Head of Vipassana Practice teachings) in the year 2517 BE.
Wat Jula Mani is an ancient temple, which was built around the period between 2172 BE and 2190 BE, in the time of the times of the great Ruler Jao Prasat Tong. It was originally called 'Wat Mae Jao Tip', and is a temple of Historical importance related to the Bang Chang branch of the Chakri Dynasty family lineage. The temple originally was built with teak wooden buildings, which rotted over time, and so it was in the time of Luang Por Nueang when they were repeaired and replaced by much more long lasting constructions. This was also one of the factors which led to Luang Por Nueang becoming the most beloved and well remembered Abbot of Wat Jula Mani, and for which the local devotees loved him so much, for his merits.
The lineage of abbots of Wat Jula Mani have been as follows; 1. Pra Ajarn Yern 2. Pra Ajarn Niam 3. Pra Ajarn Pae 4. Pra Ajarn Parn 5. Luang Por Uam 6. Pra Ajarn Num 7. Luang Por Chaem 8. Luang Por Nueang Gowito 9. Pra Ajarn It Pattajaro.
Luang Por Nueang's achievements are visibly present within the temple at Wat Jula Mani, in form of the Jadturamukh 3 tiered Uposatha made from marble, 40 meters wide, 10 meters high and 80 meters long, which cost many millions of baht in the time, and was completed in the year 2511 BE, with the Sila Reuks stone being laid on 15th August.
in the year 2530 BE Luang Por Nueang became ill, and finally passed away on 27th November 2530 BE at the age of 78 years old, after 56 years of ordained life. He is remembered for his powerful amulets, his great teachings in Dhamma Practice and Vipassana, and his attainments in improving the temple of Wat Jula Mani during his lifetime.
His powerful amulets are both rare and jealously guarded by his devotees, many of whom also follow and collect the amulets of his successor Pra Ajarn It, who has continued the Lineage Wicha and diligent practice in admirable fashion. Amongst the most famous amulets of Luang Por Nueang we find the Takrut Tone, Takrut Bailan, Takrut Look Om, Rian 2511 BE Monk Coin. Amulets made or blessed by Luang Por Nueang are considered to have high Puttakun Power and posess powerful magic, be they ones he made himself, or amulets where he attended the blessing ceremonies to assist in.
Luang Por Nueang's remains are not decomposed and are seen to be miraculously preserved. His remains are visible kept within a glass coffin at wat Jula Mani, since his passing in 2530 BE.
There is a tale of Luang Por Nueang once attending an examination with one of his Kroo Ba Ajarn in his studies, where his examinining teacher asked him to write down some Numbers using Khom Agkhara and display his ability to predict lottery. Luang Por Nueang wrote some numbers onto a piece of parchment, and his examining teacher took the parchment and placed it inside the safe at the temple. When the day came for the lottery numbers to be published, he opened the safe and looked, and it turned out that the numbers which Luang Por Nueang had written were the first prize lottery winning numbers.
---