Biography of Luang Por Kreun Amaro (Pra Kroo Kosit Tammasarn), of Wat Sangko, Supannburi
Luang Por Kreun, of Wat Sangko (Wat Sangkositaram), was a Great Olden Days Master, highly famed for his powerful Wicha Dtukgae and Wicha Jing Jok Gecko Charms, and whose Patipatā Monks Practice,was considered impeccable by his devotees, which of course rose him to a very elevated status with the faithful.
Luang Por Kreun's exact birthdate is still unproved and argued, but it is known that it was the year 2542 BE. His father's name was Mr. Fak, and his Mother's name was Phuug, and that he was a resident of Ban Pla Ma in Supannburi. As a child he was quite normal like other children, and played all the usual games and got up to the usual stuff a kid got up to in those days. Until the year 2464 BE, when he was ordained as a monk into the Sangha, for the period of one year, during which time he learned Wicha, and many Magical Spells from his peers.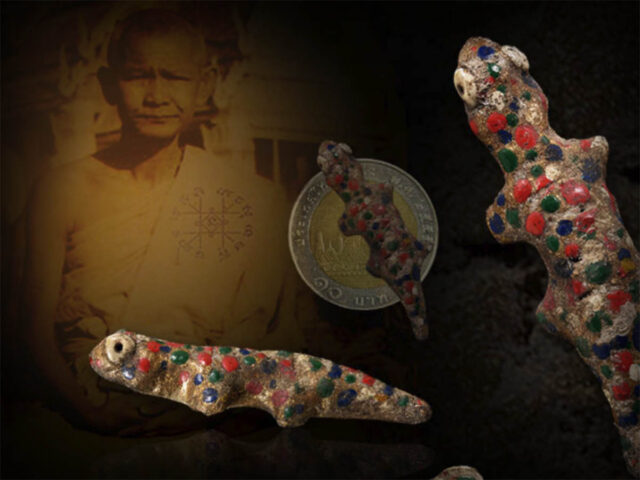 But after one year, his parents called for him to help the family, and he disrobed for 3 years, to assist his family in work. But because he had become very involved during his time as a monk, he could not resist the calling, and finally asked to return to ordain into the Sangha. He was thus reordained in the year 2468 BE, at te Putta Sima boundary of the Uposatha Shrineroom of Wat Bang Yai, with Pra Ajarn San, the Bishop of the Municipality as his Upachaya Ordaining Officer, and Pra Atigarn Chat of Wat Sukh Kasem, as his Pra Gamma Wajajarn Prompter in Chanting the Ordination requests in Pali. Luang Por Kreun was allocated to stay at Wat Sangkositaram (Wat Sangko for short), because he had heard that there was much magical Wicha to be learned from many masters at that temple.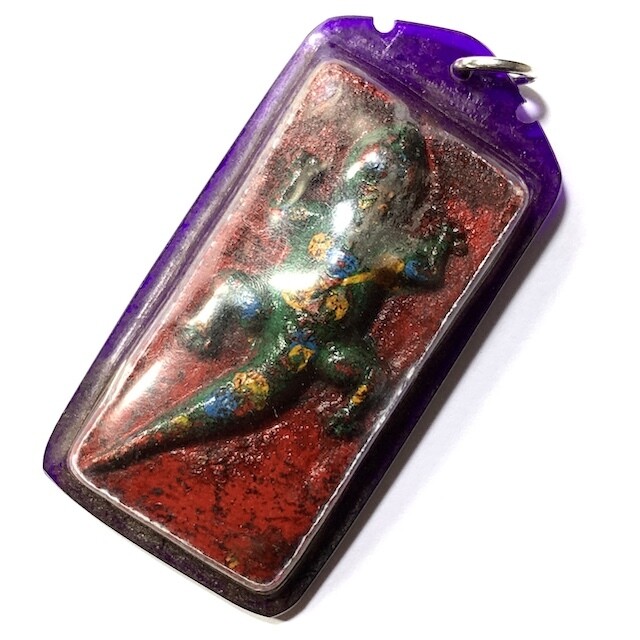 He hence was introduced to a mass of different methods of spell-casting and amulet making. For this reason his pantheon of amulets is very wide, and has many different kinds of amulets, ranging from his Dtugkhae Gecko Charms, Somdej Votive Tablets, Earthen Clay amulets, Takrut, and other types of Talismanic Charms and Votive Tablets. His powerful earthen clay amulets, came from his encounter with and apprenticeship to the great Luang Por Hnoeng of Wat Klong Madan (also Kroo Ba Ajarn to the Great Luang Por Parn of Wat Bang Nom Kho) He learned many Wicha from his Kroo Ba Ajarn Luang Por Chadtra (Luang Por Chat), who was his Ordaining Officer. He became extremely Adept in the many Wicha he was taught, and was the pride of both Kroo Ba Ajarn for his attainments.
Around the Year 2475, Luang Por Kreun was told to take over the position of Abbot of Wat Sangkositaram. Immediately after his election, he began to build Kuti Huts for monmks and Sala Halls for Dhamma teachings, funerals and prayers for the lay people to come, as well as a school for the poor children of the farmlands, and a new Uposatha Shrineroom. He built these installations so quickly that people were wondrous of his ability and wondered how he was able to perform the feats so well, and gained great reverence from the devotees, who saw the fast arising of Wat Sangko, through his handiwork.He was given the respectful title of 'Pra Kroo Kositaram Tammasarn' for this attainment.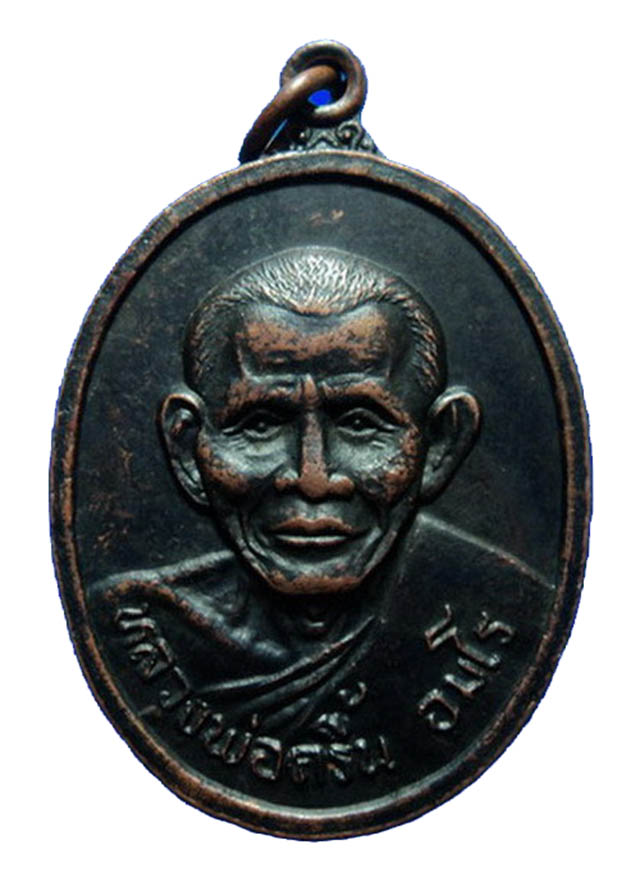 Luang Por Kreun was known to be both full of Metta Compassion, as well as being endowed with powerful Magical Wicha, and attracted many devotees who beseeched him for amulets to help them in their various troubles in life. Luang Por Kreun, was of course compassionate enough to fulfill their desires, and made amulets for the devotees who came to pay reverence, ask for help, or to assist with the building of the temple. He was known to have made his amulets always empowering them whilst under the Glod Tudong Umbrella with the Mung Mosquito Net, in Meditative Absoprtion. The local fold believe that Luang Por Kreun was forced to use the mosquito net, because when he empowered the amulets, they would fly around him in the air levitating as if in a whirlwind, and if not for the net to prevent them escaping, they would scatter and be lost all around on the floor.
His amulets were therefore highly prized as possessing immense magical powers as is known to have been still possible in those days, before Buddhism became commercialized, and monks only made amulets for merit makers, but never as fund raisers. Somehow the ancient amulets of the ascended masters, are obviously more powerful for the methods of empowerment used in that ancient era, and the purity of monks in those pre-technology days before the internet and so much international travel. Luang Por Kreun's amulets were most famous for their protective powers, and their lucky wealth bringing powers, considered as Kong Grapan Chadtri Klaew Klaad Maha Lap Maha Pokasap Magic of the finest possible.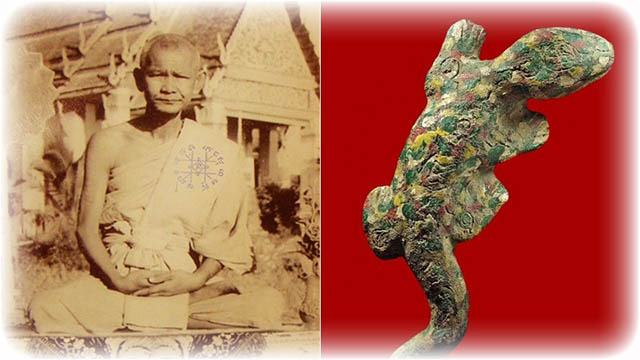 His amulets are also known for their Horoscope 'Serm Duang' improvement powers, as Luang Por Kreun was allegedly able to foretell people's futures for up to 30 years ahead. Of all the many amulets Luang Por Kreun made during his trajectory, it was the Dtugkhae Akom which he began to make first. He began to become known for amulets through distributing them to devotees around the year 2480, is when evidence of talk about his Dtugkhae and other amulets began to surface. He became very popular with the Military Devotees who used his amulets for Kong Grapan Chadtri and Klaew Klaad as well as Serm Yos Maha Amnaj to improve their status.
Luang Por Kreun also mastered the Wicha Jorakhae crocodile magic, and these were very popular with the Military for the protective, and commanding power, and status, it imbued within the wearer. You can find his powder amulets made in both earthen clays as well as Sacred powder admixtures. Many amulets in metal (especially Gammagarns) will have the letter K (ฆ) code stamp (not all), for 'Kreun', and such amulets are extremely favored, and his metallic Rian Guru Monk Coins. His Muan Sarn Sacred Powders amulets such as Pra Somdej, Nang Kwak, Khun Phaen and other models such as Pong Supann and Nang Paya are immensely rare and also highly esteemed and revered for their power.
Below; Pra Somdej Hok Chan Luang Por Kreun Wat Sangko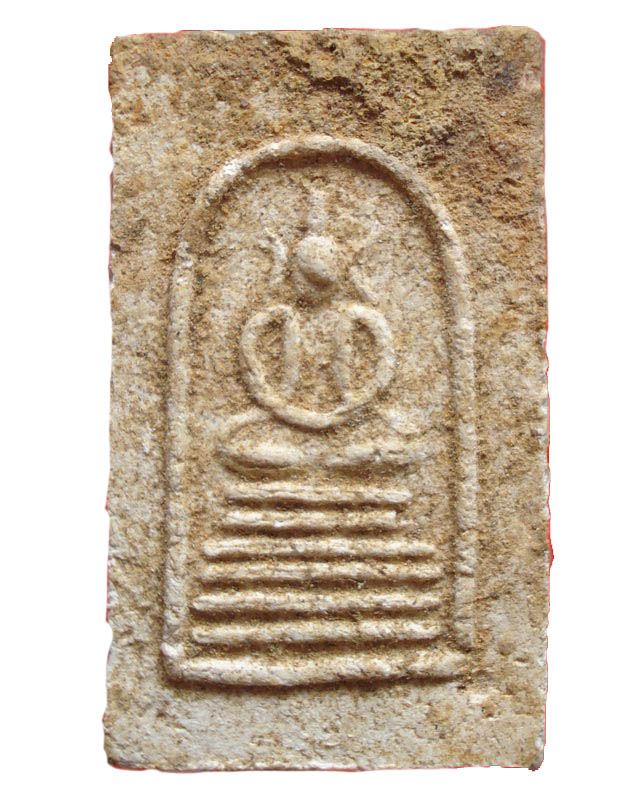 Luang Por Kreun passed away in the year 2504 at age 65, meaning that such a short life gave time to produce less amulets than longer lived masters, which is one reason why his amulets are so rare to find. His mortal remains did not rot, and were kept in mausoleum for devotees to pray to and see, which is an often seen miracle with many of the masters of the Lineage of the Supannburi Province Masters. His Sacred mummified remains continue to be on show in glass mausoleum coffin at Wat Sangko to this very day.