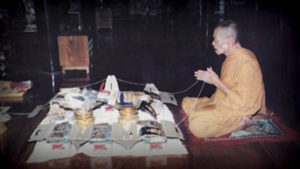 Biography of Pra Kroo Suntorn Tammagij (Luang Por Hyord) of Wat Gaew Jaroen
Pra Kroo Suntorn Tammagij , commonly known as Luang Por Hyord Chinawangso (deceased 2541 BE), was born with the name 'Suntorn Chudtimas', and was born on the 16th May 2454 BE in Damnern Saduak in Rachaburi, his father was called Mr. Mui Sae Eung, and his mother was called Mrs. Hmuean Sae Eung. His parents were merchants. He had 4 siblings.
At the age of 18 years old, Luang Por Hyord was ordained as a Samanera Novice Monk with Pra Kroo Plien Suwannachodto, the abbot of Wat Gaew Jaroen as his Upachaya Ordaining officer, on the 16th July 2472 BE. He spent the nex couple of years serving Pra Kroo Plien and studying the Dhamma, until he reached the age of full ordination as a fully fledged Bhikkhu. He was ordained as a Bhikkhu on the 8th May 2474 BE, with Pra Kroo Suttisarn (Luang Phu Jai), the abbot of Wat sadej as his Upachaya ordaining officer, Pra Kroo Plien as his Promptting officer (Gammawajajarn), and and Pra Kroo Udom Sudtagij (abbot of Wat Pramote) as his witness (Anusawanajarn). he was given the 'Chaya' Monks name of 'Chinawangso'.
Luang Por Hyord then studied the Dhamma Vinaya, and served Pra Kroo Plien the abbot at Wat Gaew Jaroen with immense diligence for a decade, until Pra Kroo Plien passed away from Tuberculosis, which he had suffered for many years, and which Luang Por Hyord had helped to take care of him during his illness. Pra Kroo Plien passed away on the 16th August 2484 BE.
On the 17th August 2484 BE, Luang Phu Jai, the Bishop of Ampawa Municipality, elected Pra Piksu Suntorn Chinawangso (Luang Por Hyord), as the new abbot of Wat Gaew Jaroen and simultaneously prmoted him also to be the Vice Bishop of Mueang Mai District in Ampawa.
His attainments in developing and administrating the temple were excellent throughout his life, and he released various popular editions of amulets throughout his long trajectory
He was succeeded by Luang Por Parn as abbot after his passing on 2nd March 2541 BE, after a long trajectory of great attainments in Dhamma advancements, as well as having performed many charitable deeds for the temple and its devotees. A long list of attainments accompanies his long trajectory, both academic, and material.
The amulets of Luang Por Hyord (Wat Gaew Jaroen)
Luang Por Hyord's amulets are considered by devotees to be extremely powerful and preferred in the amulet scene . Luang Por Hyord's ability to empower amulets with Kong Grapan Chadtri Klaew Klaad Metta Maha Niyom Maha Lap Maha Pokasap magic was legendary, and his many kinds of amulets are all extremely favoured, and seldom seen in circulation, for they are mostly all long since in the collections of devotees.
Luang Por Hyord produced many great editions of amulets and occult charms, only some of which we will show you today, for a general overview of the style of this great master, and the kind of amulets he made. Many of his amulets are purely Buddhist and preserve the classic forms of Thai Buddhist Votive tablets. His occult charms and talismans such as his Takrut are legendary for their Klaew Klaad Kong Grapan Chadtri Maha Pokasap power, especially those which use his Wicha Hmai Jet See rainbow silken spellbound cords.
Read about the amulets of Luang Por Hyord (Wat Gaew Jaroen)
Luang Por Hyords Relics in Glass Coffin in the Shrine to Luang Por, at Wat Gaew Jaroen. Devotees come to pray to the Master Luang Por Hyord every day since his passing, and beseech his blessings.