Biography of Luang Phor Songk Chantasaro, of Wat Jao Fa Sala Loi
Luang Por Songk Chantasaro, of Wat Jao Fa Sala Loi, was a Maha Thera Gaeji Ajarn who had large numbers of faithful devotees in the both the Southern province of Chumporn, and also a great many followers in Bangkok Province too, making him an 'Angel of Two Regions'. Luang Por Songk Chantasaro, was born on a Tuesday  in the first phase of the sixth month of the Lunar Calendar, in the year 2433 BE. His parents, Mr. Daeng and Mrs. Nui were farmers. He was a native born of Swee Township in Chumporn.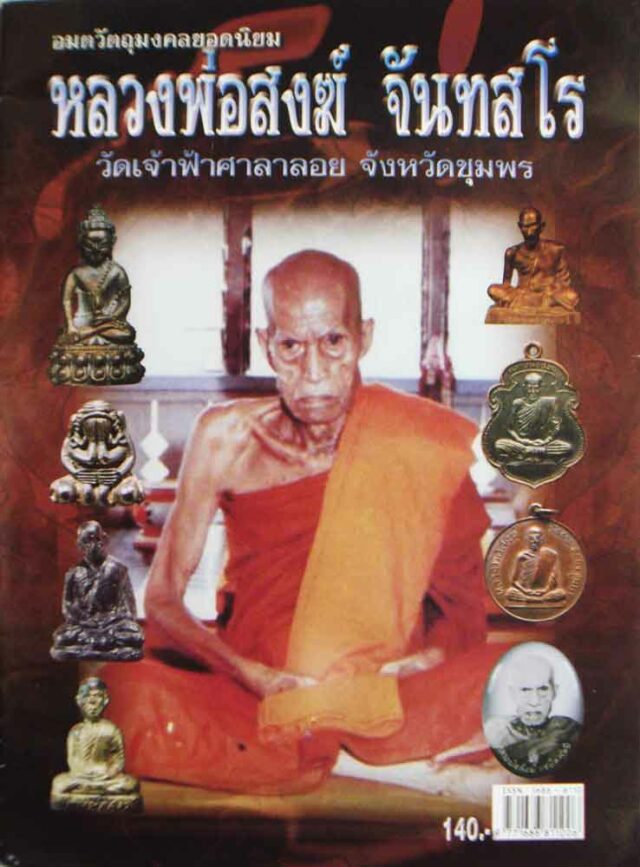 At the age of 18 years old, he was ordained as a Samanera Novice Monk at Wat Swee. After his ordinations, he studied the Dhamma Vinaya for the following two years, and then disrobed to help his family on the farm. When he reached the age of 21, he decided to go back to Wat Swee, and beseech permission to Ordain. He was able to convince the Upachaya Pra Ajarn Chern, and received permission to re-ordain as a fully fledged Bhikkhu. Luang Por was given the Ordained name of 'Chantasaro Bhikkhu' (จันทสโรภิกขุ). After the ordination, Luang Por Songk went to reside at the temple of Wat Kuan, which was also in Swee Municipality (Chumporn), for one year, studying the Dhamma Vinaya.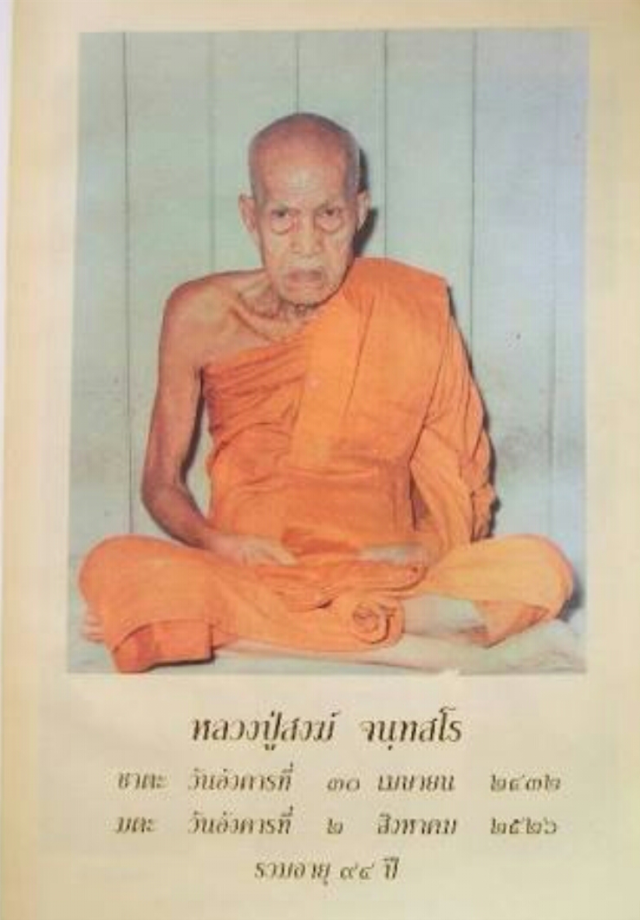 He gathered more teachings, from all the masters he could find during this period, and after the Pansā (rainy retreat) was over, he had learned enough Dhamma Vinaya to know how to practice and what is the duty and rules of a true Monk. He thus decided to seek experience further, in the areas of Samatha meditation, and Vipassana Kammathana Mindfulness Techniques. But the word 'Tudong' (forest wandering) was not known so commonly in Chumporn in those days, and it was not common knowledge that there were hermits and monks in the forest practicing in secret.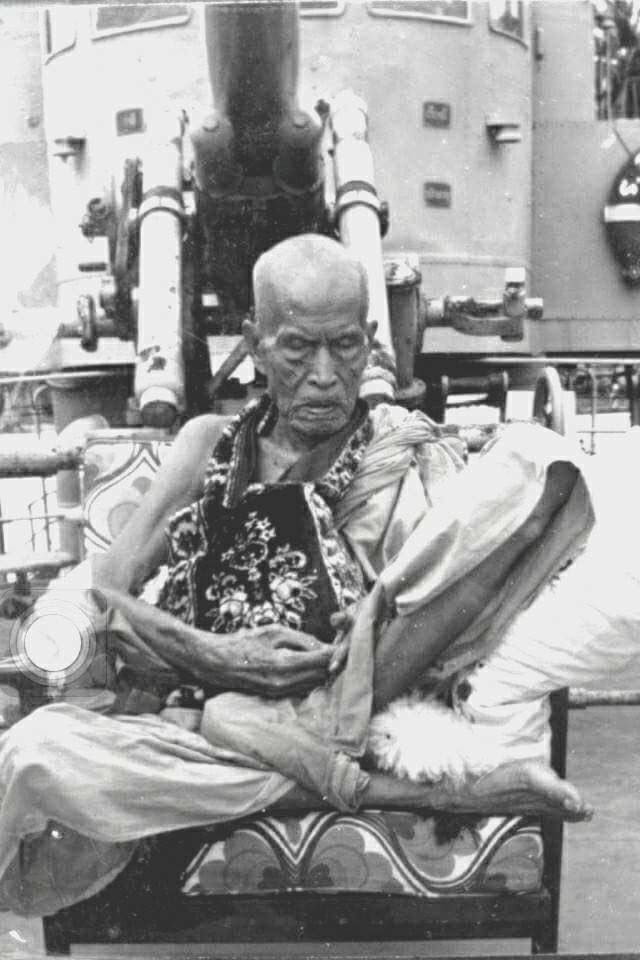 But Luang Phu Songk was so dedicated to the idea of finding Great Masters of Meditation, that he wandered, and discovered a number of Kroo Ba Ajarn, who assisted him in developing his Meditation, and his Aptitude in Kammathana Practices, as well as bestowing their Wicha Akom Sorcery spells. 
The first of these was Luang Phu Rod of Wat Dto Sae, in Pukhet, who had attained the Chan Samabat (Samabhatti Jhana, which brings Supernatural Powers). Luang Por Songk heard of this Master, and traveled to beseech permission to study Kammathana methods and learn Wicha with him. He was accepted, and stayed  with his Kroo Ba Ajarn Luang Phu Rod for a period of 2 years of practice. Luang Por Songk was extremely diligent and tireless in his efforts to serve his guru well by practicing hard, and became very proficient in Samatha Meditation. Luang Phu Rod thus decided to take him out on Tudong forest wandering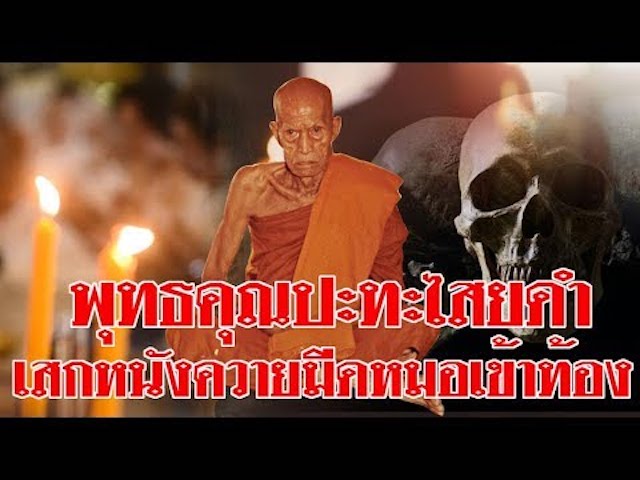 Pra Ajarn Rod instructed Luang Por Songk to wander around the ancient haunted cemeteries of the forests, caves and mountains, to meditate there, and awaken the acute powers of mind, and intensify the strength of his psychic abilities. Luang Por Songk wandered as far as the border regions of Malaysia. Luang Por Songk then turned around and wandered on foot through the wilderness areas for a long time, until he reached the Province of Petchburi (roughly 100 Kilometers distant), practicing the advanced methods taught to him by Pra Ajarn Rod. His Kammathana Abilities were now well formed and adeptly controlled, and his Psychic Powers were awakened.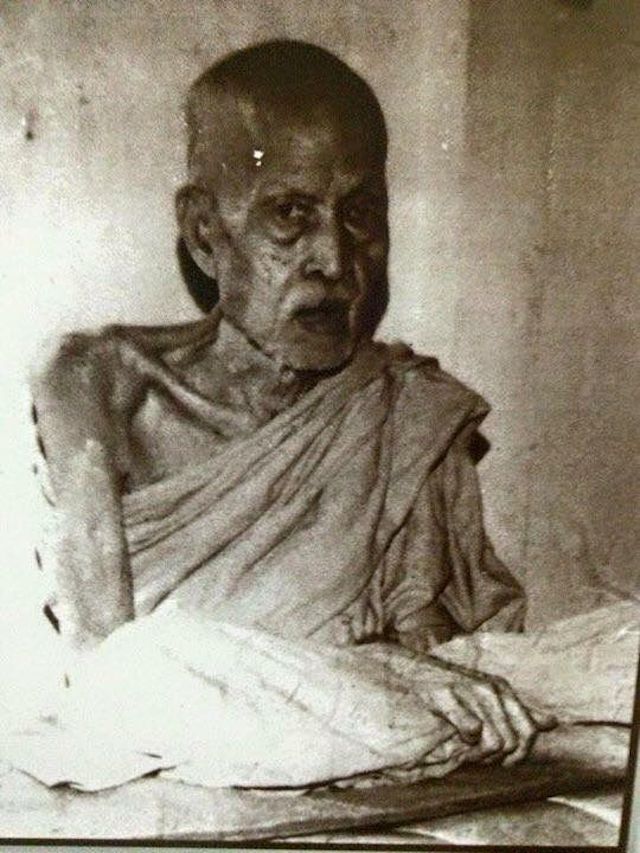 In those days, most of the Southern Khao Or Lineage Masters of the Provinces South of Chumporn, were inclined to follow the Tudong Vipassana Kammathana tradition method of practice, and develop psychic powers as part of their trajectory.  The Southern Khao Masters, have always been famous for their Powerful Sorcery. Luang Por Songk is one of the Great Masters of that Era, who was a standard bearer of the Wicha during his Era along with other Great Names, such as the Late Luang Phu Hmun. The masters of Tudong are naturally endowed with special abilities due to their Kammathana Practice which strengthens their minds, allowing monks of this method of practice to see the Vattha Samsara (wheel of becoming), and disentangle their minds from worldly distractions, to focus with utmost power on their meditations.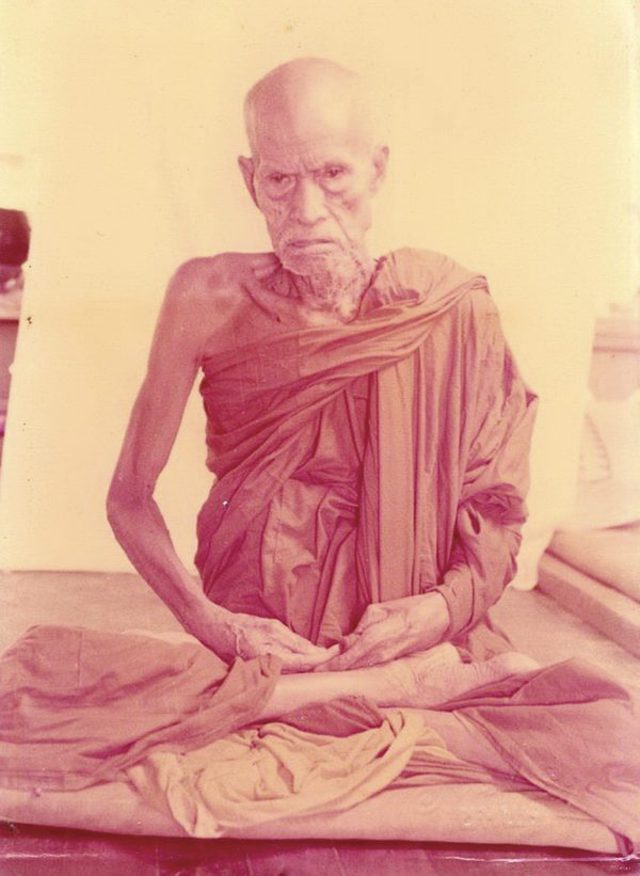 Luang Por Songk then practiced in solitude for a further 7 years waking on Tudong, or in 'Jong Grom' (pacing between two marked points), and examining the Dhamma Phenomena which arose, and faded one by one within his awareness. he learned to observe the experiences, thoughts, perceptions, feelings, and physical sensations as mere passing events, and became dispassionate as to whether an experience was pleasant or unpleasant. In this way he saw the true Dhamma of Impermanence and began to teach himself to act skilfully in that knowledge.  Luang Por Songk remaiined for many years in the forest without ever leaving to visit a town at all, practicing diligently his Tudong.
Luang Por Songk spent a total of 30 years practicing in the same method as was practiced in the Buddha's time, in the forest, away from the world, and even away from the temples. he practiced so hard that he began to look more like a Ruesi Hermit, with long beard and worn out robes, like a wild man of the forest, like an ancient yogic sage. One day some local folk were hunting for birds in the deep forests of Chumporn province, and encountered Luang Por Songk performing his austerities. They invited him to inhabit a deserted empty temple they knew of nearby, and Luang Por accepted their offer.
Below; Rian Yod Nam Lai Granok Luang Phu Songk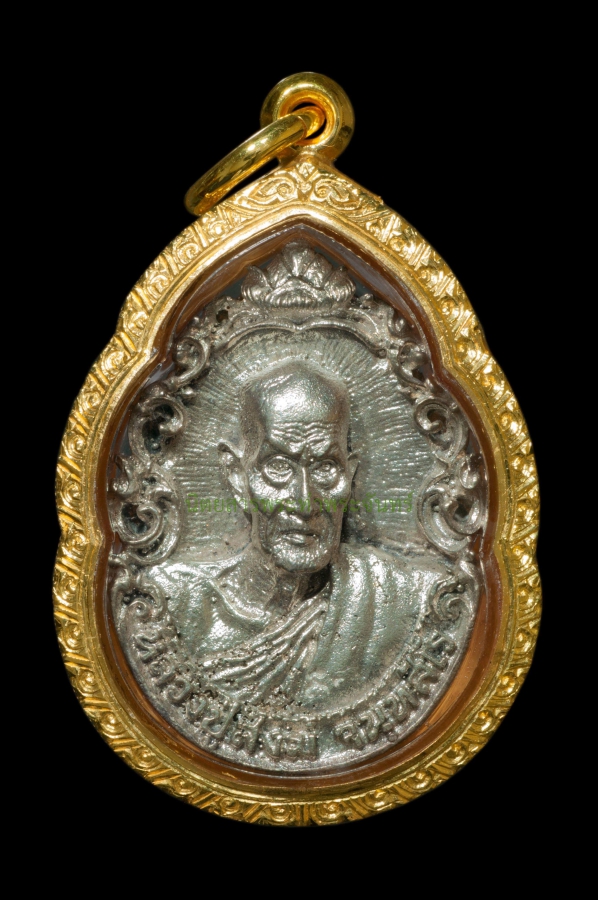 Luang Por Songk took up the task of repairing and building the deserted ruined temple, and brought it to become the famous temple we know today as 'Wat Jao Fa Sala Loi' . During his life, he alleviated the sufferings of the local folk with many meritorious projects, and brought the ruined temple to become a living monument of Buddhism, and a place of worship and spiritual comfort for the local Devotees. His many (now Pra Niyom) highly preferred amulets have served to both finance the achievement of building the temple of Wat Jao Fa Sala Loi, and to protect the Devotees and Bring them Prosperity, Health, Wealth, Love and Happiness.
Below – Pra Pid Ta Po Gaew Nuea Pong Kluk Rak Luang Phu Songk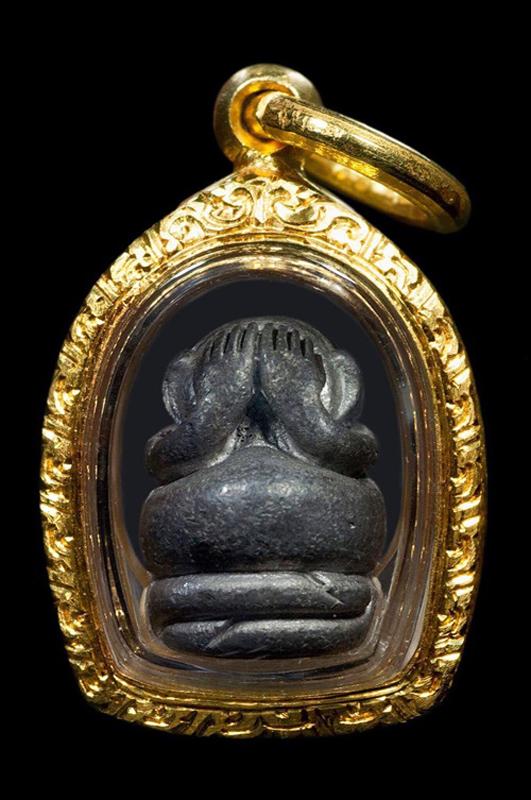 Luang Por Songk remained in service of Buddhism and the Local Devotees and the Temple for 54 Years until his final passing in 2526 BE. His relics (remains) are on display at the shrine of the temple of Wat Jao Fa Sala Loi for his Devotees to come and pay reverence, worship and beseech Miracles from. Luang Por Songk's amulets are known for powerful Klaew Klaad protection, and Metta Maha Lap for Business Improvement, but many Devotees also believe that Luang Por Songk's amulets help increase wealth by attracting winning lottery numbers.
Miracles
Luang Por Songk, was known to have had a water bowl at the side of the stairs to his Kuti Hut, which he would constantly refill every day with the Holy Prayer Water he would make every night as he meditated. Devotees who knew about the water bowl next to Luang Por's Kuti being Holy Water, would come and ask to take some home for Praying to, and to drink, to heal their ailments, Luang Por Songk's Holy Water was very sacred, and he used it to heal and bring blessings to devotees constantly. It is said that the holy water of Luang Por Songk can be asked to fulfil wishes and perform miracles. There is a very famous legend that once some devotees brought their daughter who was apparently behaving as if she were possessed by a ghost to the temple. The came to the stairway to Luang Por Songk's Kuti, and waited there (for girls were not allowed up the stairs), and the father entered the Kuti to ask Luang Por for his help.
Below; Pra Pid Ta Putta Kong Luang Phu Songk 2518 Nuea Loha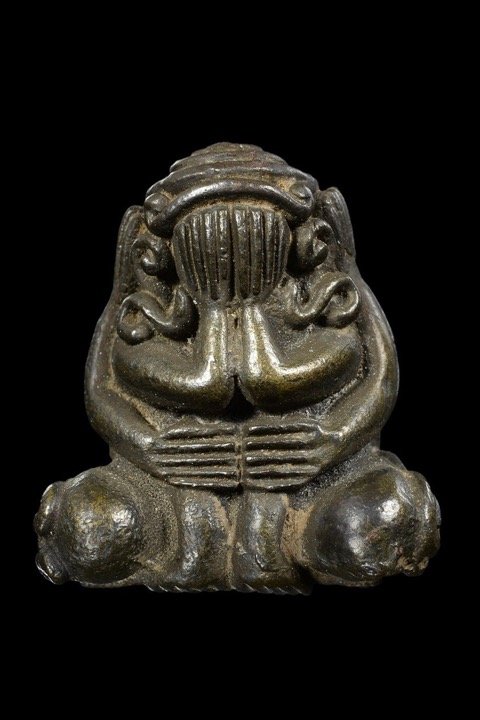 Luang Por Songk emerged from the Kuti, as the girl was struggling to get free from her relatives, who were holding her arms to prevent her from hurting herself or others. The girl was screaming and wriggling. Luang Por Songk Said 'Stop wiggling and jiggling for a moment can't you?', and the girl immediately stopped, and became still. But as Luang Por stopped talking and became silent, the girl began to scream again. One of Luang Por's Devotees, Mr. Sang, then picked up the Holy Water bowl and gave it to Luang Por Songk, who poured the water over the possessed girl. The girl deflated immediately and became still, this time permanently.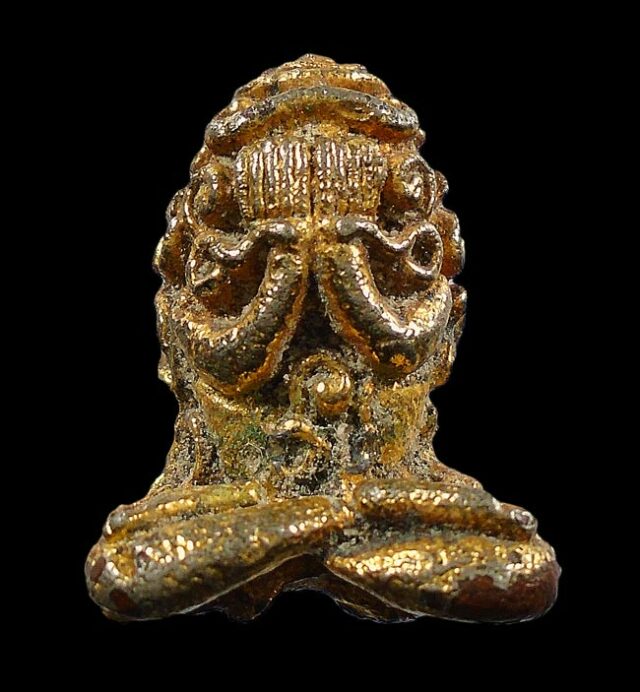 Luang Por Songk went back into his Kuti Hut, and after he closed the door, the girl awoke again but was healed, and completely returned to her normal state. This exorcism with Holy water event became heard of around the country, and led to many devotees beseeching Luang Por Songk for his Holy water Blessings.
The Ya Sen (Ya Soop) Tobacco of Luang Por Songk
Luang Phu Songk used to use Ya Sen (also called 'Ya Soop',  meaning 'smoking medicine' or sometimes called 'Ya Chun', meaning 'aromatic medicine'), to smear his lips, then put into his mouth and chew it into a ball. This tobacco was seen as highly sacred coming from this Great Tudong Monk of High Attainment, and the devotees always asked for the chewed substance, who would  either put it into a small bag, or encase it, and wear it as an amulet.
Below Ya Soop Luang Phu Songk and other Talismanic Charms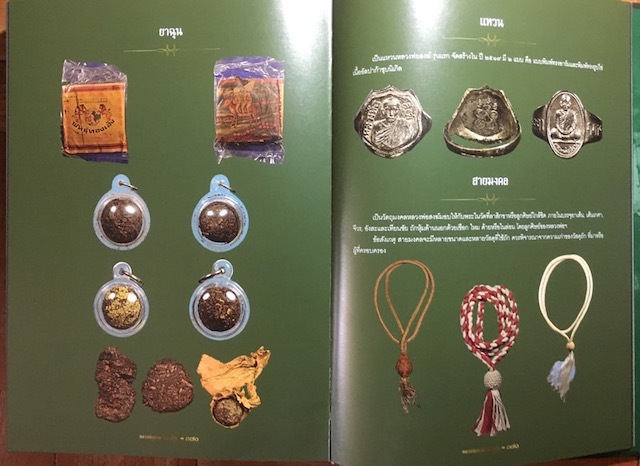 The devotees would bring tobacco to the temple to give to Luang Por Songk Chantasaro to 'Pluk Sek' (enchant and empower), and carry the tobacco with them as a protective luck bringer. Thereafter, the temple decided that since so many devotees were asking for the tobacco of Luang Por Songk, that they should start preparing ready-made for wearing, inserting some into lockets, and to put in the back or inside other amulets, for the devotees who came to pray to Luang Por Songk Chantasaro. The Sacred Ya Soop of the Great Arya Sangha Monk and Khao or Legend, Luang Por Songk, of Wat Jao Fa Sala Loi said to possess Magical Powers, and is revered by the Devotees of this Monk. His Ya Soop, and his amulets are renowned for Metta Maha Niyom and Maha Lap Klaew Klaad magic, to bring Prosperity Metta, and powerful Protection to the Devotee. There was once a case where a devotee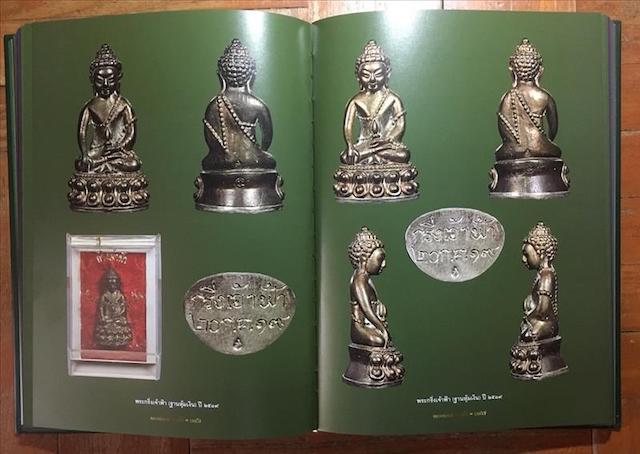 Luang Phu Songk, because famous for his strict adherence to his practices on a daily basis without fail. His day during his post-Tudong years as Abbot of Wat Jao Fa Sala Loi, were; 04:00 Morning Prayers for about one hour. 06:00 Call all the monks and Samanera Novices, and Lay Practitioners helping at the temple, to gather, and get them all in line ready for alms rounds. 7:00 Bintabat Alms Round to receive food offerings from Devotees around the vicinity of the temple. 09:00 Gather at the Hor Chan Refectory, to consume the food needed to get through the day, give blessings to devotees waiting for the Monks to finish their alms, after which Luang Phu Songk would lead the prayers of blessings to the devotees, would receive pleas for assistance, give Dhamma advice and teachings to his devotees,

Thereafter, he would return to his Kuti Hut to practice meditation, and rest. 12:30 Luang Phu Songk would come out of his hut and receive devotees, to give blessings, and fulfil their many needs and requests, and listen to their problems, as well as do holy water blessings and natural healing. 14:00 Luang Phu would bathe, and then enter his hut and perform chanting of Kata and Prayers. 16:00 Luang Phu Songk would once more come out of his dwelling, to receive devotees, listen to their woes, & give blessings. 18:00 Practice (Bhavana) with meditation and self introspection, in various manners according to the 40 methods of Vipassanā Kammathāna practice.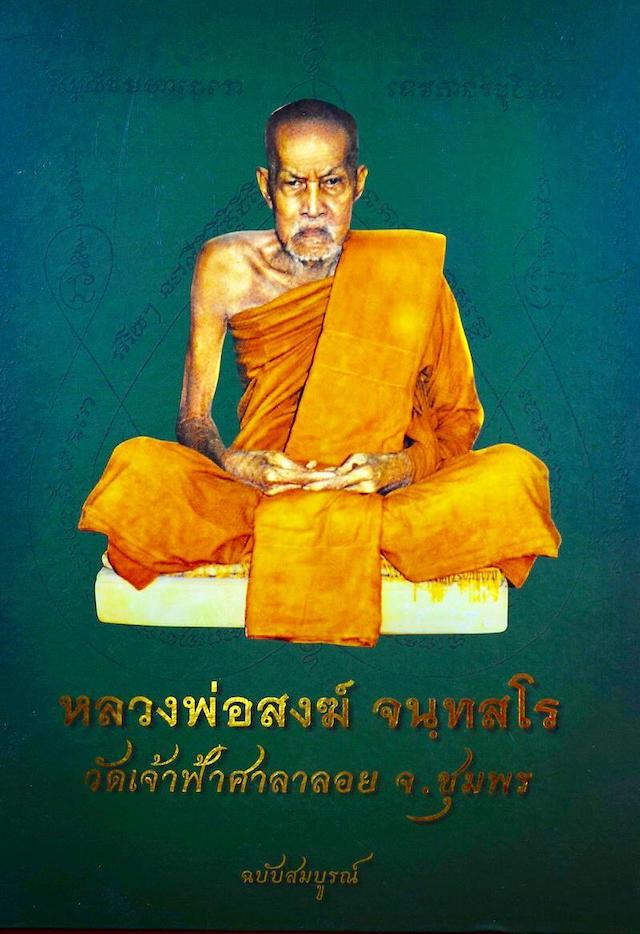 It was a rule that all Monks and Samanera Novice Monks must practice this daily session as compulsory. 20:00 Luang Phu Songk would perform a sermon, advise and teach his Monks and Students, with Dhamma lessons. 22:00 Rest for a while in the Kuti Hut, before the final practices of the day. 24:00 Luang Phu Songk would rise and meditate until the early hours. It is said that he would meditate until 04:00, but that is unlikely, as this is the same time he rose to begin the day, which would mean he did not sleep at all, ever. This may be a Miraculous Truth, but we consider this to be an Unknown, but may be possible, considering the two pauses for rest given during the daytime, which for a monks, one or two hours of sleep a day is enough. Apart from this, twice a month at 13:00 hours he would perform Uposatha Ceremonies in the shrine room.
Below; the 'Sira' Remains of Luang Phu Songk during a ceremony of respect and preservation of his Mummified remains.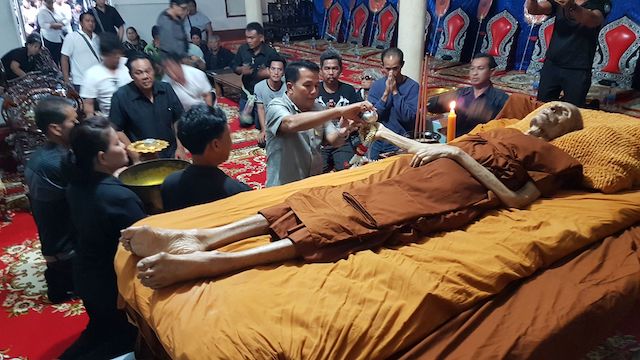 ---