Luang Por Nok – Wat Sangkasi (2932 – 2475 BE)
Biography of LP Nok, of Wat Sangkasi: Master of Wicha Suea Maha Amnaj of LP Parn (Wat Bang Hia)/Wat Bang Bor).
Luang Por Nok of Wat Sangkasi (Born 29/12/2392 BE – Passed Away 21/09/2475 at 83 years old). Luang Por Nok was most famously known as being direct lineage Master and Prime Apprentice in Buddha Magic, of the Great Luang Por Parn of Wat Bang Hia, and for his Lineage Mastery in the making and empowerment of Tiger teeth and Carved Tiger Amulets, in the traditional methods of Luang Por Parn of Wat Bang Hia.
Luang Por Nok of Wat Sangkasi was ordained at the age of 15 years old as a Samanera Novice monk, at Wat Gong Gaew in Samut Prakarn, with Pra Kroo Wibulya Dhamma as his Upachaya. He studied Khom Agkhara and Pali during his Novice Monk period, to a point of fluency, after which he came of age and disrobed to return with his family.
His father had passed away by this time, so his mother took him to Wat Bang Hia at Ban Klong Dan. He underwent the Ceremony in front of thwe Buddha Sima temple monastic border monument at Wat Bang Hia(***), in Amper Bang Hia, and was ordained as a fully fledged Bhikkhu in the Buddha-Sasana.
His Upachaya at Wat Bang Hia was Pra Kroo Pipat Nirodhakij, otherwise known as the Great Luang Por Parn of Wat Bang Hia. His Pra Gamma Wajaajarn Recital Prompter was Pra Ajarn Tong. Hiw Pra Anusawanaajarn was Pra Ajarn Ruean. Luang Por Nok was given the Official Monk's name of 'Dhamma Chodti'.
After his ordination, Luang Por Nok then studied and practiced the Buddhist Vinaya, Vipassana Kammathana and Samatha Meditation methods and also practiced the Mastery of Wicha Saiyasart Buddha Sastra Occult magic under Luang Por Parn himself. He fast became Luang Por's most elite apprentice for his fast wittedness, ease of learning and good memory.
Because of this, he received the teachings and attained Mastery of the methods of Luang Por Parn in a very short space of time, and was soon considered to have a level of Mastery and Understanding that Thai people call 'Dtaek Chan', which means to Master a subject to the point where one excels above all other practitioners.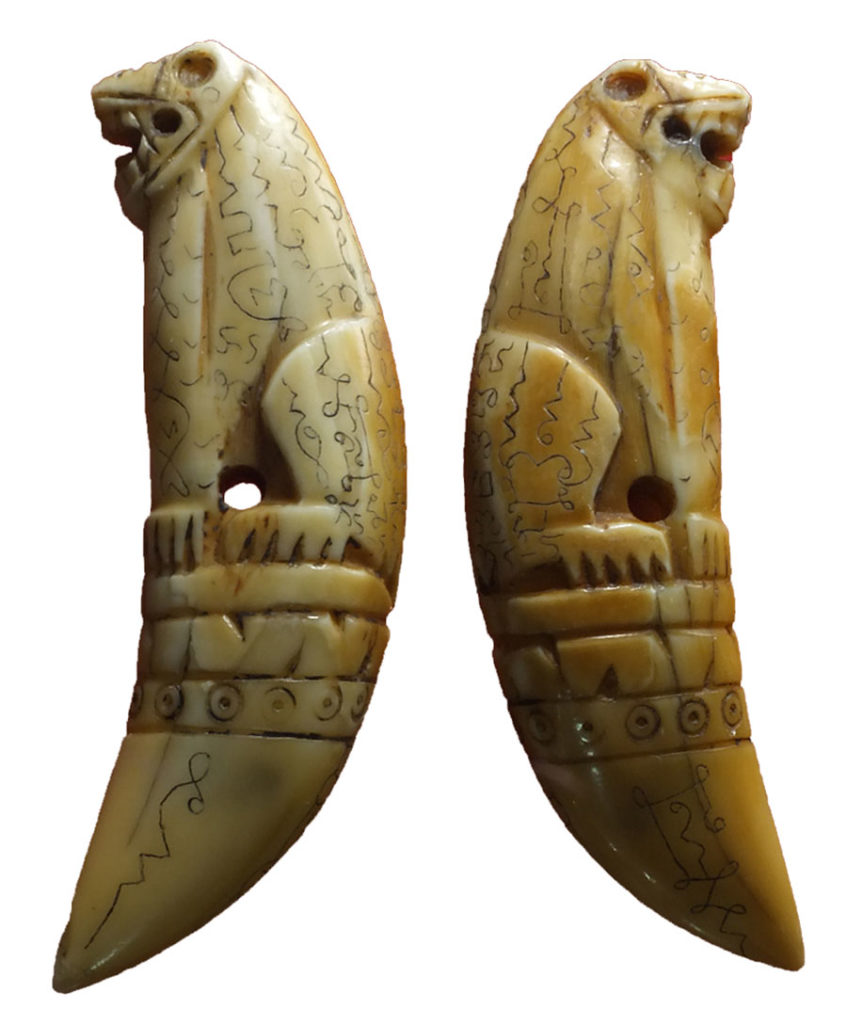 Luang Por Nok often followed Luang Por Parn out into the forest when he would wander on Tudong Practice. This is where Luang Por Parn revealed and taught the Master Wicha of the 'Khiaw Suea' Tiger tooth amulet. Luang Por Nok was attentive and gave his utmost and attained such a high Mastery of the Wicha that even Luang Por Parn would admire his attainments and power. Luang Por Parn was often heard to state that Luang Por Nok was able to make Tiger Teeth amulets that were equally powerful to his own, and that Luang Por Nok was also able to make the amulets fly out of the alms-bowl as he would perform the incantations, with psychic power.
For this reason, Luang Por Nok's Tiger Tooth and Carved Tiger amulets are as popular with High End Collectors and devotees of the Lineage as are those from Luang Por Parn himself. These days it is almost as difficult to find a tiger tooth from Luang Por Nok, as it is to find one from Luang Por Parn, his Mentor and Predecessor. In fact, many of the tiger amulets of Luang Por Parn himself were inscribed with Khom Agkhara spells by Luang Por Nok himself, because Luang Por Parn was highly impressed with Luang Por Nok and trusted his powers and ability as being equal to his own.
After many years with Luang Por Parn at Wat Bang Hia, Luang Por Nok was travelling on Tudong with a couple of other Bhikkhus, and made camp in the country in the area of Bang Pli Noi in Bang Bor, Samut Prakarn.
It was there, as he was camping in the countryside near to the village, that along came a very Rich Lady, to give offerings and pay reverence, who was instilled with great faith in Luang Por Nok, whose fame had preceded him, and offered and pleaded to be allowed to donate Land and for Luang Por Nok to use is Merits to build a temple there.
So Luang Por Nok returned to discuss the matter with Luang Por Parn, who gave his blessing, and so it was, that Luang Por Nok came to be the Abbot of the temple at Wat Bang Bor, which came to be known as Wat Sangkasi, which was installed in the year 2430 BE. Luang Por Nok remained there as the Abbot, and brought the temple to grow and prosper, until his passing away on the 21st September of the year 2475 BE on the 7th day of the Lunar Month, in the Year of the Monkey.




Luang Por Nok passed away at the age of 83 Years Old. His Tiger Tooth amulets are one of the Thai High End Master Class Collector Scene's mots sought after and prized talismanic amulets, and stand amongst the other greats in the Historical hall of Fame of Thai Amulet and Guru Monk History.
Wat Bang Hia (Wat Bang Bor)
Wat Bang Hia is of course a World famous Historical Temple of Monumental Status in the Amulet Scene for the fact that this was the temple of Luang Por Parn, Master Wicha holder of making famous Tiger Tooth and Carved Tiger amulets, whose amulets are now of the 'Maha Sethee' Millionaire master Class, even more so than the Tiger Amulets of Luang Por Nok himself, who is his antecessor and direct Lineage Inhertor of the Wicha for Tiger Amulet empowerment using the Wicha of Wat Bang Hia.
---