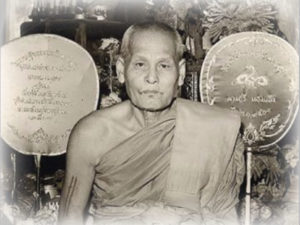 Biographical Account of the Ordained Life and Amulets of Pra Kroo Suchay Bunyakom (Luang Por Chuea)
Luang Por Chuea Was born on 11th December in the year 2447 BE in Tambon Huay Grod, and was the third child of the family. When he reached the age of seventeen, his father took him to stay and be educated with Luang Por Kong, of Wat Mai Bampen Bun, who was a very famous and powerful Gaeji Ajarn Master Monk of that Era, and of the same Era as the Great Luang Phu Sukh of Wat Pak Klong Makham Tao (although he was somewhat younger than Luang Phu Sukh). Luang Por Kong was also a 'Pra Sahatammika' (companion) of the Great Luang Por Dto of Wat Wiharn Tong, and would visit him frequently.
He was famous for his Rian Luang Por Kong Guru Monk Coin amulet of 2477 BE, with powerful Kong Grapan Chadtri Klaew Klaad Metta Maha Niyom attributes. Luang Por Chuea has a whiole chapter dedicated to him in the official biography of Luang Por Kong, which shows just how intimate and involved these monks were with each other as Kroo Ba Ajarn and Looksit to deliver and transmit Magical Wicha.
When Luang Por Chuea reached the age of 20 years old, he Ordained into the Buddhist Sangha as a Bhikkhu (Monk) at Wat Mai Bampen Bun with Luang Por Kong Tasagiro as his Upachaya Ordaining Officer, and Pra Atigarn Dtia as his Pra Gammawajajarn Prompting Officer, and Pra Prohm as his Pra Anusawanajarn witness. He received the 'Chāyā' (Monk;s Name) of 'Suggawanno'. After his Ordination, Luang Por Chuea studied the Pra Pariyatti Dhamma (Theoretical Dhamma) at the Samnak Sata Rasadorn at Wat Singh in Chainat. He studied up to reaching a Doctorate in Pariyatti Dhamma.
In the year 2475, Luang Por Chuea returned to Wat Mai Bampen Bun, and began to study and practice Vipassana Tura (Kammathana Mindfulness Meditation). Once he had adopted the teachings and applied the practices received from Luang Por Kong, he wandered out on Tudong 13 practice of solitude wandering alone in the forests, and keeping the rules of Tudong 13 Practice, to strengthen and forge his Wicha and make it impermeable and impossible to deteriorate. His powers of mind developed greatly in this time, as did his insight and understanding in Vipassana Kammathana Mindfulness of the Dhamma. This is the real Dhamma practice which goes beyond all theory, and delivers enlightenment in short but permanent bursts to the practitioner.
He wandered far and wide even reaching into the forests of Laos, and gathered his experience as a Tudong Master, the Abhinya powers began to arise as a natural side effect of self renunciation and turning inwards away from the world, instead of outwards at the world.
During his time in the Isan and in Laos, he met with many other Monks, many of whom were also practitioners of Buddha Magic (Sorcery), and who exchanged Wicha with each other. After Luang Por Chuea returned from Laos, he went to study Wicha under the Great Luang Por Derm of Wat Nong Po, from whom he mastered the Wicha Singh gae carved Singha Lion, and the methods for making the Immortally Famous Wicha Mitmor Spirit Knife of Luang Por Derm. Luang Por Chuea became later famous for his Mitmor Taep sastra ritual spirit knife, which is now an extreme rarity and considered one of the most powerful Mitmor Knives in existence after that of Luang Por Derm
Luang Por Chuea's personal practice and behaviour was impeccable, and his merciful compassion and helpful unbiased attitude towards others led him to become highly beloved by his devotees at Wat Mai Bampen Bun. He practiced the four Brahma Viharas well (Metta, Karuna, Mudhita, Upekkha), which means compassion, generosity, the wish to help others, and equanimity towards all things. Donations he would receive from devotees would always be given to the temple funds for restorations or for charitable deeds, and he always continued to live in a simple manner, using all donations for the good of the public welfare.
Below; Suea Yant hand inscribed Yantra Shirt from Luang Por Chuea estimated about 2480 BE


















The devotees built a large Kuti hut for Luang Por to live in, but Luang Por Chuea remained most often sleeping in a small Sala (pedestal with roof and no walls) which was within the temple near the edge of the forest, and sleep there. When people would ask, he would say that he preferred to sleep where it was out in the open and also that people can find him easily because he is not behind a locked door.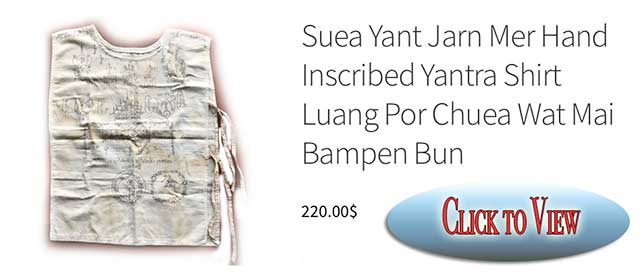 He showed no interest for going to live in the more comfortable Kuti Hut the devotees had built for him, although he did of course show gratitude and give blessings. One would imagine he allowed its building despite knowing he would not use it, that later monks would come after his death and be able to use it, and that it was an extension and improvement of the Buddhist temple of Wat Mai Bampen Bun. In addition, a good Monk never refuses the Laity the chance to make Merit (Good Karma), and so of course allowed them permission to build for the temple. Luang Por Chuea was hence Great in Wisdom, as well as in Practice of Vinaya and in Magical Wicha.
Luang Por Chuea became abbot of Wat Mai Bampen Bun after his Mentor Luang Por Kong passed away.
Amulets of Luang Por Chuea
The most famous Amulets of Luang Por Chuea Wat Mai Bampen Bun are; Rian Glom Run Raek 2506 BE Round Monk Coin, his Rian Run Sorng 2nd edition Monk Coin (also known as 'Rian Farang Dong' – pickled guava') from 2511 BE, Rian Run Sam 3rd Edition 2513 BE coin, Rian Run See 4th Edition (also known as 'Rian Fa Pa' Thunder edition) of 2515 BE
The Rian Bai Mayom 2517 BE (made in Tong Daeng, Rom Dam, and Galai Nak), the Rian Sema Tong Kam Gold Shield Shape Monk Coin (unknown release date), Rian Paya Nak Naga Coin (made in Gold, Silver and Nava Loha, and in Nuea Tong Daeng Galai Ngern Hnaa Tong Silver with Gold Image, Tong Daeng Galai Tong copper with gilded image, and Nuea Tong Daeng Sacred Copper), The Rian Surya, the Pra Somdej Roey Rae Meteorite Crystals sprinkled Sacred Powders Votive Tablet
Roop Tai Takrut Sam Dork Photo with three Takrut in rear face, and Roop Tai photos with Inscriptions – two editions were made, the second being in 2522 BE using the original first photo to make reproductions of the image, and with ink stamp Agkhara instead of hand inscription on rear face. below, you can see pics of the two editions for visual comparison so you can recognise their differences and identify which one you have found.
Roop Tai Luang Por Chuea first edition (left side version) and second edition (right hand version)
Roop Tai Luang Por Chuea rear face inscriptions (left side version) and rubber ink stamp (right hand version) on the 2522 BE Yorn Yuk Edition
The Pra Somdej Pong Bailan Yant Yung black Buddha Image Votive Tablet, the Rian Chalong Ayu 6 Rorp 60th Anniversary Coin from 2518 BE, the Pra Pong Roop Muean Jantr Loi Round cameo Sacred Powder Guru Monk Image,, the Roop Lor Run Raek 1st Edtiion Loi Ongk Statuette from 2517 BE, the Roop Lor Run Sorng 2nd Edition (released in the same year after total sellout of first edition)
Below; Roop Lor Loi Ongk Statuette Luang Por Chuea 2nd Edition Amulet


Roop Lor Chalong Ayu Hok Rorp 60th anniversary edition Loi Ongk Statuette of 2518 BE, and the Lan Po Magazine sponsored 'Pong Roop Muean powder monk imasge Votive Tablet, as well as his extremely famous talismanic amulets; the Mitmor Sastra, Takrut Tone, Takrut Bailan, many hand inscribed Pha Yant, and the Pra Prok Bai Makham Lek.
His amulets are considered pure Buddhakun (Purely Buddhist with no Black Magick) auspicious amulets, because they have the power to turn friends into enemies, and make families and work colleagues love and be helpful to each other, with Luang Por Chuea's White Magick Wicha of Metta Maha Niyom Serm Duang. His amulets are also highly famed for Kong Grapan Chadtri Klaew Klaad Invincibility and Evasion of Deadly Accidents.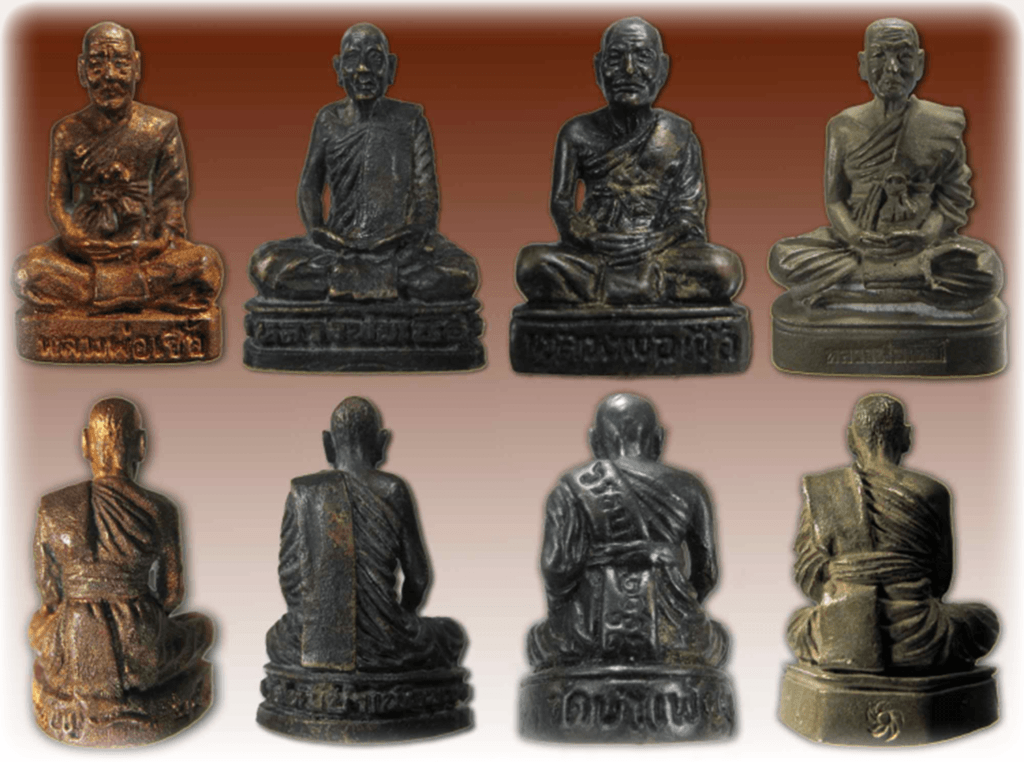 Luang Por Chuea served his Devotees and the Temple of Wat Mai Bampen Bun up until the day of his passing on 2nd January 2525 BE, aged 78 Years Old.
The Devotees insisted on having Luang Por Chuea's remains placed in a glass coffin in a shrine within the Sala Bprian building, where it was placed and remained for Devotees to Bucha until the final Cremation on 25th – 27th April 2529 BE